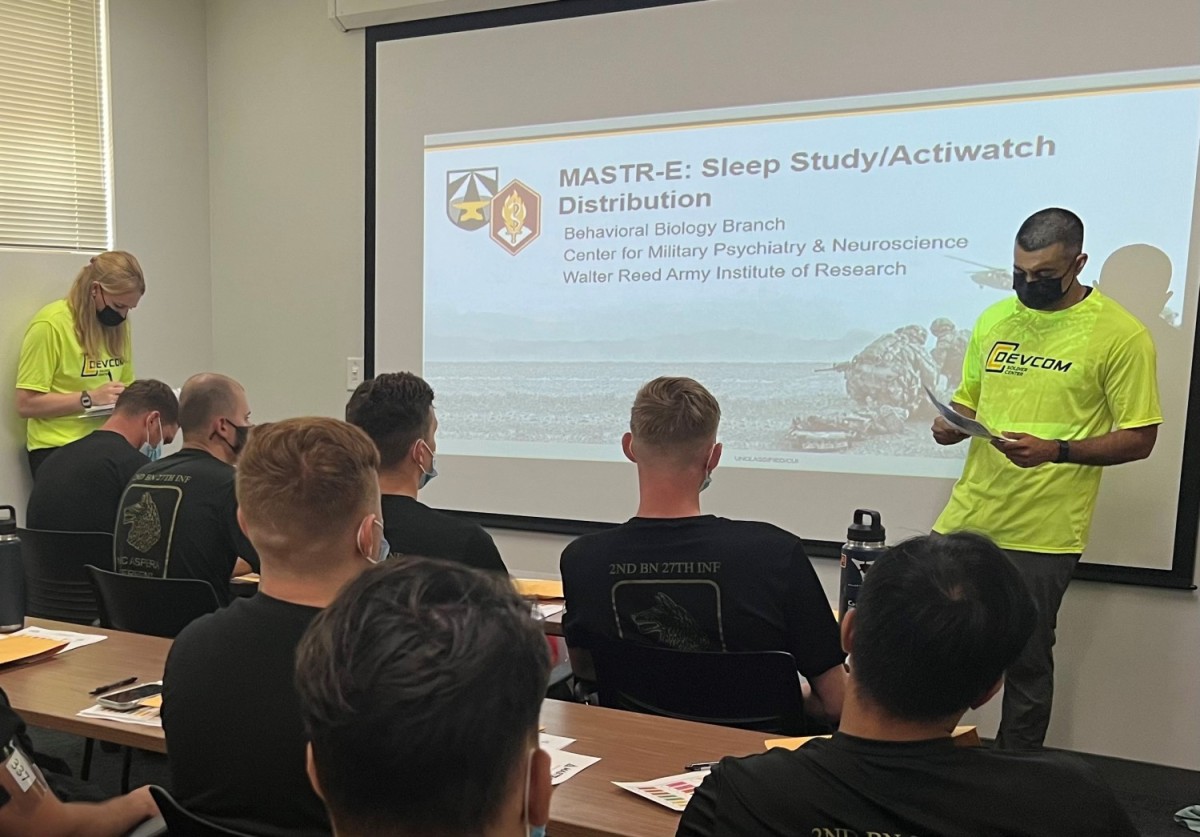 25th ID Aids Army Innovation Efforts with DEVCOM, WRAIR Data Collection for MASTR-E | Article
SCHOFIELD BARRACKS, Hawaii (June 3, 2022) – Recently, soldiers from the 25th Infantry Division volunteered for the U.S. Army Combat Soldier Tactical Readiness and Effectiveness Measurement and Advancement (MASTR-E) program Capabilities Development Command Soldier Center (DEVCOM SC) and 72 hour baseline and field study. efforts. The MASTR-E Core Team is made up of members of DEVCOM SC and partners from the Aberdeen Test Center, Center for Applied Brain and Cognition Sciences (CABCS), Data and Analytics Center DEVCOM (DAC), Naval Health Research Center (NHRC) and Walter Reed Army Research Institute (WRAIR).
Soldiers from 2nd Battalion, 27th Infantry Regiment, 3rd Brigade Combat Team, 25th ID volunteered to help the study objectively and holistically measure soldier and squad performance using a diverse set of metrics to capture and track cognitive, physical, social, emotional performance and health status during extended live training exercises. The data collected will be used to identify human dimension X-factors that reliably account for the performance of dismounted soldiers and small units on fundamental combat tasks during sustained operations.
"Building a ready and resilient army is a top priority. MASTR-E is a tool that helps the Army accomplish this goal by providing vital information about our training that helps leaders optimize total soldier performance," said Deputy Principal Assistant Secretary of the Army (Acquisition, logistics and technology), Mr. Young Bang. "Congratulations to the 25th ID, DEVCOM SC and WRAIR team for collaborating across the military, industry and academia to scale innovative solutions to help accomplish military priorities. "
As the partner of choice for multiple countries across – not just one or two time zones but across multiple time zones – 25th ID leadership is excited to be part of an innovative program that can provide tools to combat issues related to air travel.
"Wolfhounds are exceptionally excited and eager to work with the MASTR-E program to help gather and analyze small unit performance analytics that will help increase the lethality and readiness of our combat force," said the commander of the 2-27 Infantry Battalion, Lt. Col. Michael Haith. "We recognize the importance of this study and how it will facilitate more targeted and specific training progressions that will better prepare us for combat. As our environments and threats are constantly changing, it is crucial to remain adaptive and agile; this study will better equip us for these variations and we couldn't be more honored and motivated to lead the way.
During this week's baseline data collection, soldiers performed a variety of tasks associated with training WRAIR scientist Dr. Tina Burke and her colleagues in jet lag strategies. "Taking the appropriate steps to mitigate the risk associated with sleep loss, circadian misalignment and fatigue can mean the difference between mission success and failure," Dr. Burke said.
"We have all these tools out there to measure soldier performance and by getting a better performance metric, we can get a better performance prediction," said DEVCOM Command Sgt. Maj. Bryan D. Barker. "Collaborative events like this give us a good, solid baseline that provides important data that we can reference later in the program and in other studies."
Data that will continue to be collected over the next few weeks as participants wear a specially designed watch until the 72-hour field study in Fort Devens, Massachusetts in June.
The DEVCOM Soldier Center is committed to discovering, developing, and advancing science and technology solutions that ensure America's combatants are optimized, protected, and deadly. The DEVCOM Soldier Center supports all Army modernization efforts, with cross-functional Soldier Lethality and Synthetic Training Environment teams being the primary focus areas of the DEVCOM Soldier Center. The center's scientific and technical expertise is combined with collaborations with industry, DOD and academia to advance soldier and squad performance. The center supports the military as it transforms from being adaptive to driving innovation to supporting a multi-domain operations capable force of 2028 and an MDO ready force of 2035. DEVCOM Soldier Center works constantly enhancing the performance of soldiers to increase readiness and support for combatants who are organized, trained and equipped for fast and sustained ground combat.
The 25th Infantry Division, "Tropic Lightning", is the United States Pacific Division. Tropic Lightning provides United States Indo-Pacific Command with a uniquely customizable force with the ability to quickly respond to contingencies across the Pacific. Tropic Lightning soldiers – a reliable, credible and disciplined force – work continuously with partners and allies to prepare for common challenges.