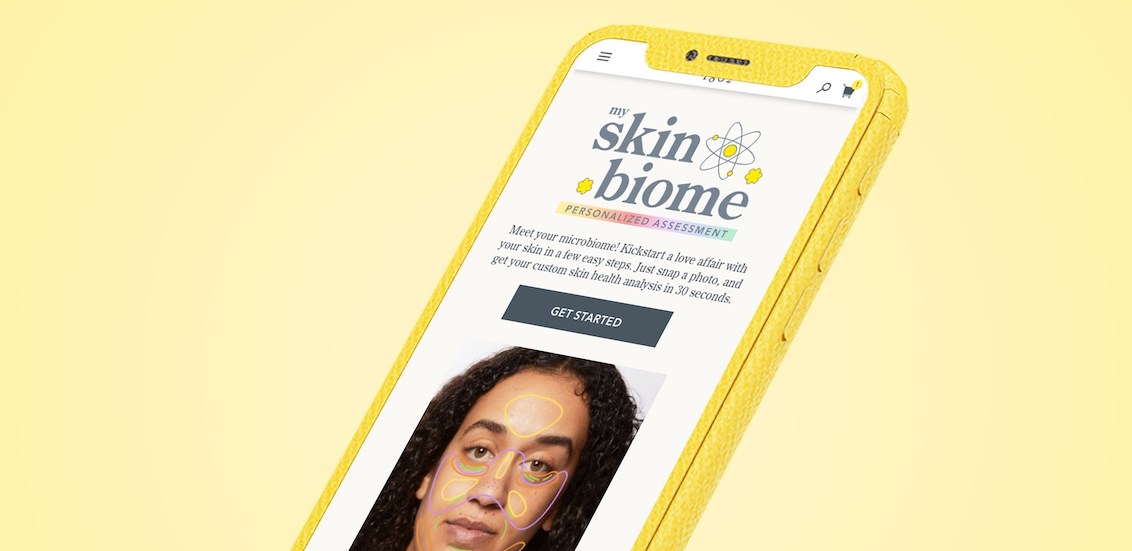 Beekman 1802 puts the spotlight on the microbiome with a new skin analysis tool
Beekman 1802 is establishing itself as the leading microbiome skincare brand.
The microbiome and its close cousin, the skin barrier, have recently entered the forefront of the beauty conversation. At the end of June, Beekman 1802 launched a mobile tool accessible via its e-commerce site called My skin biome, which allows shoppers to scan their face and, in 30 seconds, rate six qualities, including their facial microbiome, wrinkles and skin texture. Each receives a score of up to 100 points, with 100 being perfect. Pop-ups then inform users of the impact of their skin microbiome on results and suggest recommended products. According to Jill Scalamandre, CEO of Beekman 1802, 80% of Beekman 1802's website traffic is mobile. With a focus on skin health, companies like Unilever, Shielded Beauty, Dr. Barbara Sturm, and even hair regeneration brand Nutrafol have introduced microbiome products to their customers.
"We needed to start educating consumers about the microbiome because it's not something they fully understand at this point, although we know it's going to be a big part of the conversation going forward," said Scalamander. "We had to bring [our shopper] on what issues she can figure out with her skin and then tie them to the microbiome, because that would be the most consumer-friendly way.
Beekman 1802 worked with Perfect Corp. to develop its diagnostic tool. Brands like Neutrogena and Nu Skin have also implemented Perfect Corp's skin diagnostic technology. since its introduction in 2017. Skincare accounts for 40% of Beekman 1802 sales, with Scalamandre aiming to increase sales to 60% by 2024. In December 2021, investment group Eurazeo invested $62 million out of a total of $92 million to acquire a majority stake in the brand alongside co-investors Cohesive Capital Partners and the Cherng Family Trust. Scalamandre said the current iteration of My Skin Biome is just the beginning of the tool's potential; the "ideal situation" would be to measure bacteria on the skin for the most accurate results, but Beekman 1802 will pursue other diagnostic features such as additional photo analysis. Additionally, the tool may be integrated into physical in-store displays in the future. Beekman 1802 joined Ulta Beauty in 2020 and also sells through HSN and QVC.
Perfect Corp's AI Skin Diagnostic technology. is being implemented in an exciting new way with the launch of the Beekman 1802 digital tool, integrating microbiome education when people use the tool, said Alice Chang, Founder and CEO of Perfect Corp.
"Now more than ever, beauty consumers are looking for personalized advice and brand experiences," Chang said. "This AI-powered technology is a transformative tool in the skincare space and enables skincare brands to deliver immersive and valuable shopping experiences that drive digital engagement and sales. ."
Initially, Beekman 1802 will promote My Skin Biome through email marketing, influencers and brand social media. Scalamandre declined to say how many email subscribers the brand has, but said there are around 1 million customers between its DTC e-commerce, HSN and QVC sales channels.
"The skincare industry went from natural to clean, and then clean had to become [clean and] clinic," said Brad Farrell, CMO of Beekman 1802. "What we call 'kind ingredients' that are also clinically effective is what we see as the future of skincare – it's tied to the microbiome, which is about being kind to your skin and using safe ingredients.