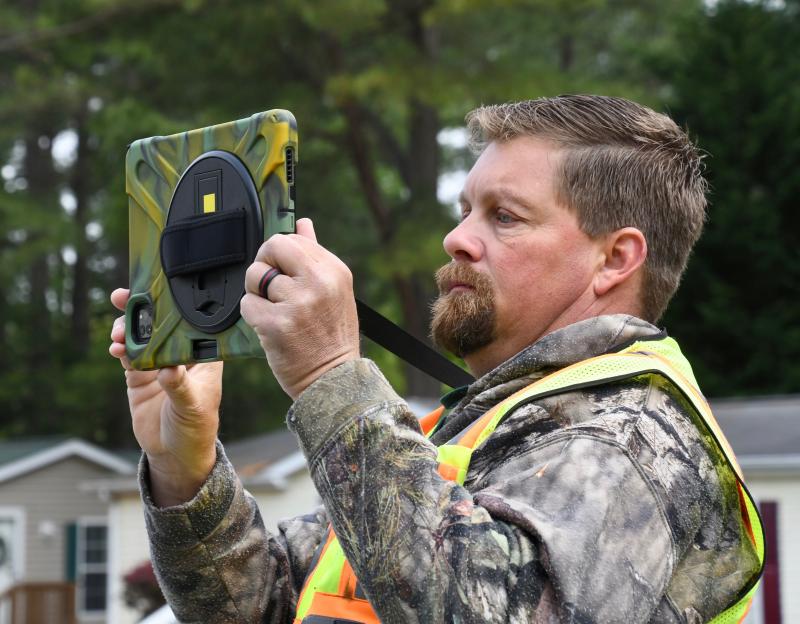 Sussex reassessment data collection continues
Tyler Technologies, the consultant hired by Sussex County officials to conduct property tax reassessments, has completed just over 10% of its property data collections.
As of May 4, 19,680 properties have been visited by a team of 21 collectors in fluorescent yellow vests carrying out door-to-door visits on site. There are over 182,000 properties in the county to process. Tyler Technologies won a base bid of $9 million last year.
Mary Noldy, senior project supervisor for Tyler Technologies, presented an update on the reassessment process to Sussex County Council at its May 10 meeting.
She said collectors had taken 19,000 photographs of properties and would begin uploading the data to the county's appraisal database this summer.
Collectors visit and take a street photo of each upgraded property. They also take measurements of every building on a property, and if the owner is home, they conduct a short interview about the interior layout, including the number of bedrooms and bathrooms.
Noldy said the biggest challenge collectors face is lack of awareness about the reappraisal process. "We get mixed reactions from people," she said. "The data collectors' knock on the door is the first time many residents have heard of the reassessment."
She said many residents choose to call the office to verify that the collector is a county official. "They think we are sellers or scammers. But once they verify who the collector is, they are well received. They are usually willing to provide answers during the interview phase," she said.
She said collectors do not enter residences and do not enter properties that are closed or have no trespassing signs posted without permission.
"It is in the interest of the resident that the data is correct. We do everything we can to get good data," she said.
When access is not available, collectors make estimates. Noldy said each owner will eventually receive a copy of their reassessment along with the photograph and all data collected.
Data collected includes a property's location, age, condition, improvements, and surrounding neighborhood information. Five comparable properties will be used to determine a new market value for a property.
An in-person visit will be conducted, and if an owner is absent, an informative door hanger will be left for owners to complete property data and submit to the county within 30 days, or they may request an appointment for a on-site visit by a data collector.
Data collection is expected to be completed in May 2023 and the process should be completed in time for the 2024 tax bills
Access to aerial photos
At its May 10 meeting, council approved an expenditure of $59,400 to Eagleview Technologies to allow Tyler Technologies and county staff to access current and historic aerial photographs of each property during the reassessment process.
Noldy said the data will improve the data collection process and also provide accurate data to county assessment staff during the appeals process. It is estimated that up to 10% of owners will appeal their initial reassessment. She said it will also show if any improvements have been made to a property.
Values ​​date back to 1974
Officials in Delaware's three counties are under a court order to conduct a reassessment, which is the first ever in the county.
Currently, property owners in Sussex County pay taxes based on 50% of a property's appraised value in 1974. County property tax is 10% of the annual bill, while 90% is school taxes. On average, owners of single-family homes pay $118 a year in county property taxes; owners of manufactured homes pay an average of $46 per year.
Market values ​​of properties
Delaware law requires that appraisals reflect the market value of the property at the time of appraisal. The value date for Sussex will be July 1, 2023. Values ​​should reflect current market value supported by data and analysis conducted for a prescribed period preceding this date.
For commercial properties, appraisers will reach a valuation taking into account a host of factors — not just income, County Administrator Todd Lawson said at a recent meeting.
Some of the factors that will be looked at are local construction cost, land value, sales data, income and expense data, and other things that could affect values. He said Tyler staff will look at all three approaches to value (cost, market and income), selecting the one that best predicts the property's current market value.
Paul Miller, Eastern Regional Sales Manager for Tyler Technologies, said the essence of revaluation is predicting the selling price of every residential and commercial property in Sussex County. "It has to be precise and fair. It is a monumental task," he said.
Sending to owners
Owners will receive at least two mailings from the company. The first, which will be sent from summer 2021 to spring 2023, will contain known property data, similar to a real estate agent's information sheet. Owners will have the opportunity to review the data and make changes.
A notice of value will be mailed once all data has been collected. It is at this point that owners can schedule an informal meeting with staff if they have any questions about their reassessment.
For more information, visit empower.tylertech.com/Sussex-County-Delaware.html.