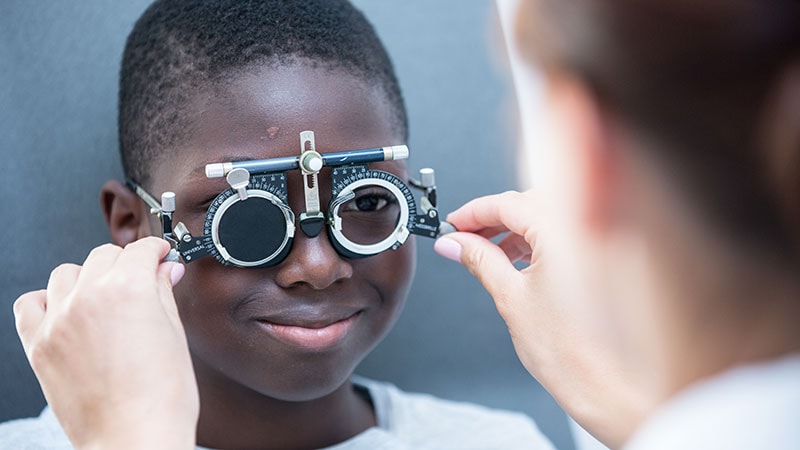 Visual impairment more common among minority youth
Race, ethnicity and socioeconomic status are strongly associated with visual impairment among adolescents in the United States, researchers have found.
The study showed that teens who identified as black, Mexican-American, low-income, or non-US citizens were two to three times more likely than white teens to report vision problems and get less good results on objective visual acuity tests.
Although disparities in visual impairment with respect to ethnic, racial and socioeconomic status have been described in adults, little research has explored the adolescent population, according to the researchers, whose findings appear in JAMA Ophthalmology.
"The main motivation for trying to determine exactly when these disparities emerge is that it gives us the opportunity to come up with ideas for interventions that can potentially address them before they manifest in ways that they are no longer treatable," said Isdin Oke, MD, an ophthalmology instructor at Harvard Medical School in Boston, who led the latest study.
Oke and colleagues analyzed the records of 2,833 children and adolescents aged 12 to 18 (mean 15.5 years; 49% female) as part of the National Health and Nutrition Survey. All participants had a completed visual function questionnaire and had undergone an eye exam. The primary outcomes of the study were subjective (self-reported) poor vision and objective measures of visual function (visual acuity less than 20/40 in the better seeing eye).
Of the study participants, 14% were non-Hispanic black, 11% were Mexican American, 63% were non-Hispanic white, and 11% were of other races and ethnicities. Five percent of participants were non-US citizens and 19% had household incomes below the poverty level.
After controlling for potential confounders, self-reported poor vision was more common among blacks (odds ratio [OR], 2.85; 95% CI, 2.00 – 4.05; P P P
The study also found an increased likelihood of visual acuity below 20/40 in the better-seeing eye in blacks (OR, 2.13; 95% CI, 1.41, 3.24; P = 0.001) and Mexican-American adolescents (OR, 2.13; 95% CI, 1.39, 3.26; P = 0.001) and non-US citizens (OR, 1.96; 95% CI, 1.10, 3.49; P = .02).
According to the researchers, black and Mexican-American adolescents were almost three times more likely to have poor subjective visual function and twice as likely to have low objective visual acuity than non-Hispanic white youth.
I think this is something that health care providers, and even the population as a whole, should be more aware of.
Dr Isdin Oke
"I think this is something that health care providers, and even the population as a whole, should be more aware of," Oke said.
Intervention possibilities
Oke said the findings likely reflect underlying inequalities in access to vision care experienced by these people.
"There are many opportunities for early intervention, whether through vision screening or improving access to vision services for children and adolescents, that can really make a big difference in the long run" , did he declare. Medscape Medical News.
Michael F. Chiang, MD, director of the National Eye Institute at the National Institutes of Health, Bethesda, Maryland, agreed that more needs to be done to improve access to eye care for all Americans.
"There is good data showing that we don't have sufficient numbers of eye care providers and clinical researchers in health services who come from backgrounds that are currently underrepresented in medicine and science," Chiang said. "Therefore, we must find ways to inspire, recruit and train more people to strengthen our visionary workforce."
Other ways to address these care gaps, Chiang said, include improving understanding of the social determinants of vision health as well as developing ways to improve access to eye care.
"This can include new models of eye care, like telehealth to improve awareness, and will likely need to include what we call implementation science, so clinicians can better adopt these measures," he said. he declares.
Oke and Chiang did not report any relevant financial relationship.
JAMA Ophthalmol. Published September 15, 2022. Summary
Michael Vlessides is a bestselling author and medical journalist in Canmore, Canada.
For more news, follow Medscape on Facebook, TwitterInstagram and YouTube.